Main Menu – Rework
We have updated our main menu for new buttons.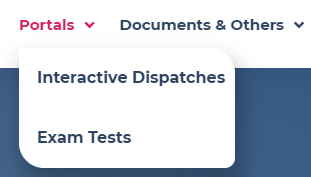 If You are logged in then under Portals you can find links into respective Interactive Portals.
Dispatches

Interactive portal for filling your flight data and printing your Dispatches

Exam Tests

Portal full of exam questions from various topics and learning programs.
Note: Our new interactive portals don't request your login or password. You can access them anytime, as long as you are logged into LMS.