( ! )

Warning: Attempt to read property "roles" on bool in /var/www/lms/wp-content/themes/flyingacademy-lms/Utils.php on line 34
Call Stack
#
Time
Memory
Function
Location
1
0.0000
364072
{main}( )
.../index.php:0
2
0.0001
364448
require( '/var/www/lms/wp-blog-header.php )
.../index.php:17
3
0.4509
34114608
require_once( '/var/www/lms/wp-includes/template-loader.php )
.../wp-blog-header.php:19
4
0.5087
36242296
include( '/var/www/lms/wp-content/themes/flyingacademy-lms/tutor/single-lesson.php )
.../template-loader.php:106
5
1.1495
55893704
tutor_lesson_content(

$echo =

??? )
.../single-lesson.php:29
6
1.1495
55910216
tutor_load_template(

$template =

'single.lesson.content'

,

$variables =

???,

$tutor_pro =

??? )
.../tutor-template-functions.php:1186
7
1.1495
55910936
include( '/var/www/lms/wp-content/themes/flyingacademy-lms/tutor/single/lesson/content.php )
.../tutor-template-functions.php:115
8
1.1496
55911312
get_user_roles(

$user_id =

0

)
.../content.php:28
How to Create Training Card in LMS and Sales Force
How to CREATE STUDENT TRAINING CARD IN LMS and SF ( Sales Force )
First u have to log in as student and in student account select TRAINING SYLLABUS / PROGRESS TEST  to connect LMS SYSTEM with TRAINING PORTAL
( If you not make this process, you will not be able to see student in TRAINING SYLLABUS as ADMINISTRATOR )
In the left upper corner select FLYING ACADEMY E-LEARNING and USER


Fill user ID and search user…..LOG IN AS STUDENT

Select TRAINING SYLLABUS/ PROGRESS TEST button – now you already connected the systems, you can see if student has any Training card or not but as the student see it, now pls select button GO BACK TO ADMIN AS…. in the button part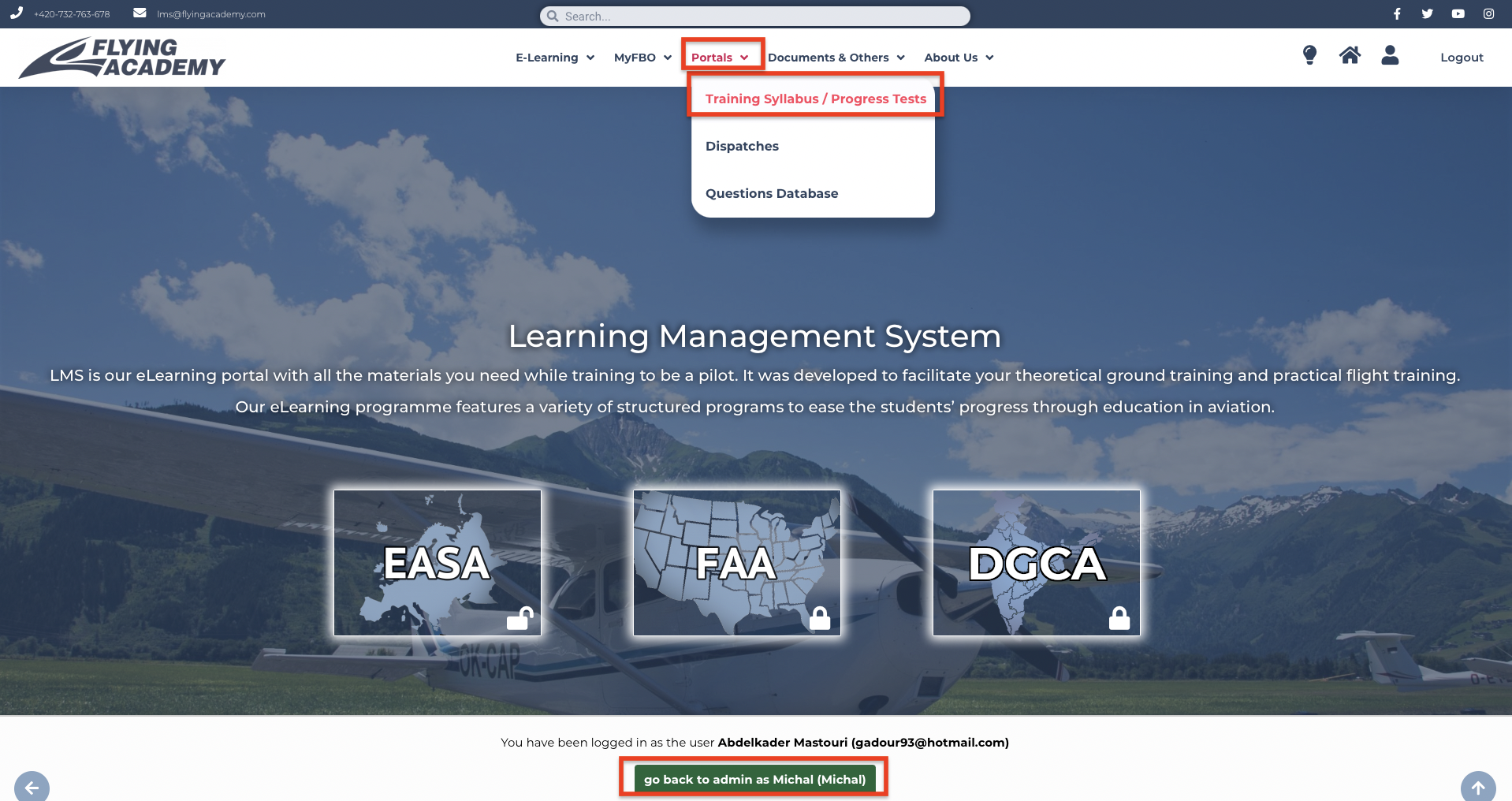 Now you are back in LMS as ADMIN and you can open TRAINING card TO STUDENT
On your PROFILE PAGE as ADMIN in LMS select TRAINING SYLLABUS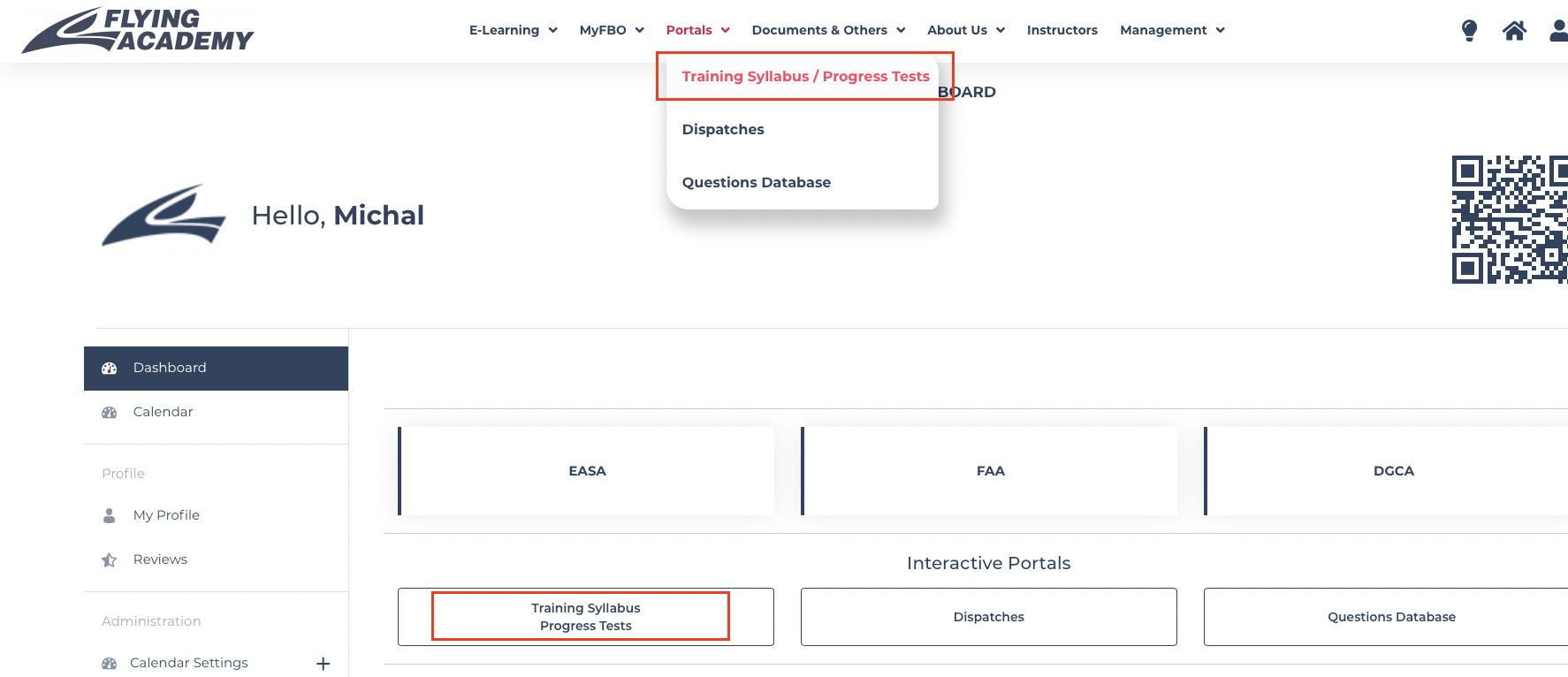 Fill student

ID

into

SEARCH BAR

, find  

NAME of the STUDENT

and click on

STUDENT NAME

Select + ADD TRAINING CARD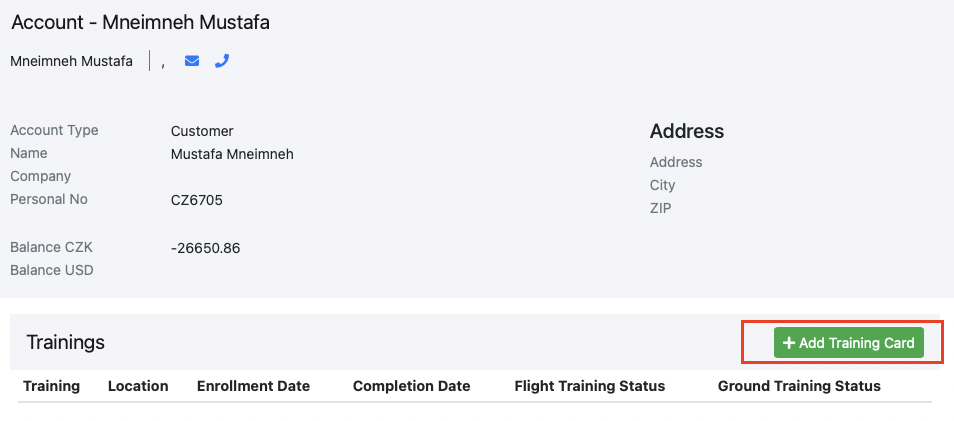 Fill all important informations about student TRAINING RECORD
TRAINING
LESSON ( IF IS NEEDED IF NOT YOU CAN CONTINUE )
CATEGORY ( FILL JUST IF IS NEEDED )
LOCATION
ENROLMENT DAY ( USUALLY SAME DAY AS YOU OPENING CARD )
PRIMARY INSTRUCTOR ( FILL JUST IF IS NEEDED )
SECONDARY INSTRUCTOR (FILL JUST IF IS NEEDED )
FLIGHT TRAINING STATUS ( IF STUDENT FLYING – IN PROGRESS, IF STUDENT HAVE JUST ONLINE THEORY – NOT APPLICABLE )
GROUND TRAINING ( USUALY IN PROGRES )
Select SAVE AND CLOSE GREEN BUTTON to save TC
SALES FORCE TRAINING CARD
Now open Sales Force and FIND STUDENT  ACCOUNT AND OPEN HIS TRAINING CARD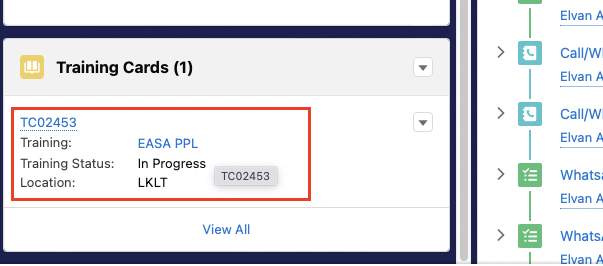 If student is missing a Training Card…..
You can create a training card by clicking on the small arrow in the corner and selecting NEW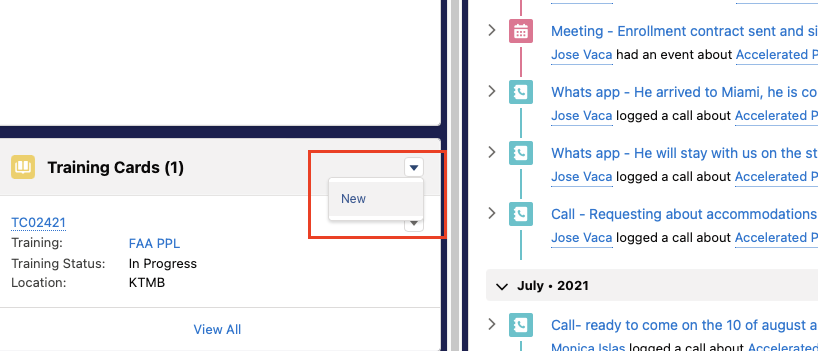 Select master Record or the one that belongs to the course and click on NEXT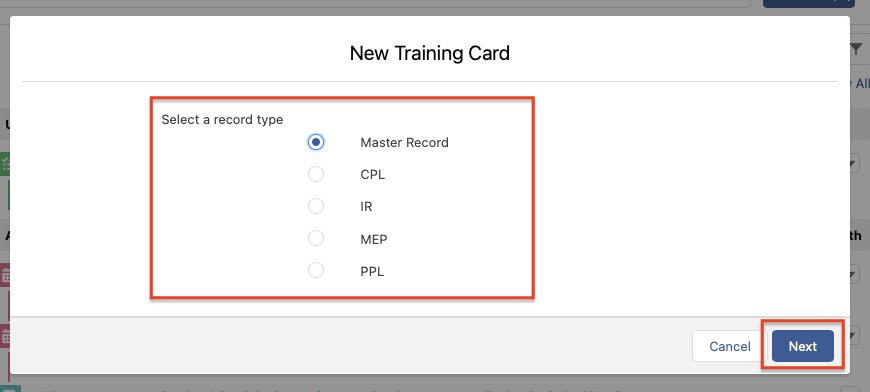 Fill all of the data that you know and press safe.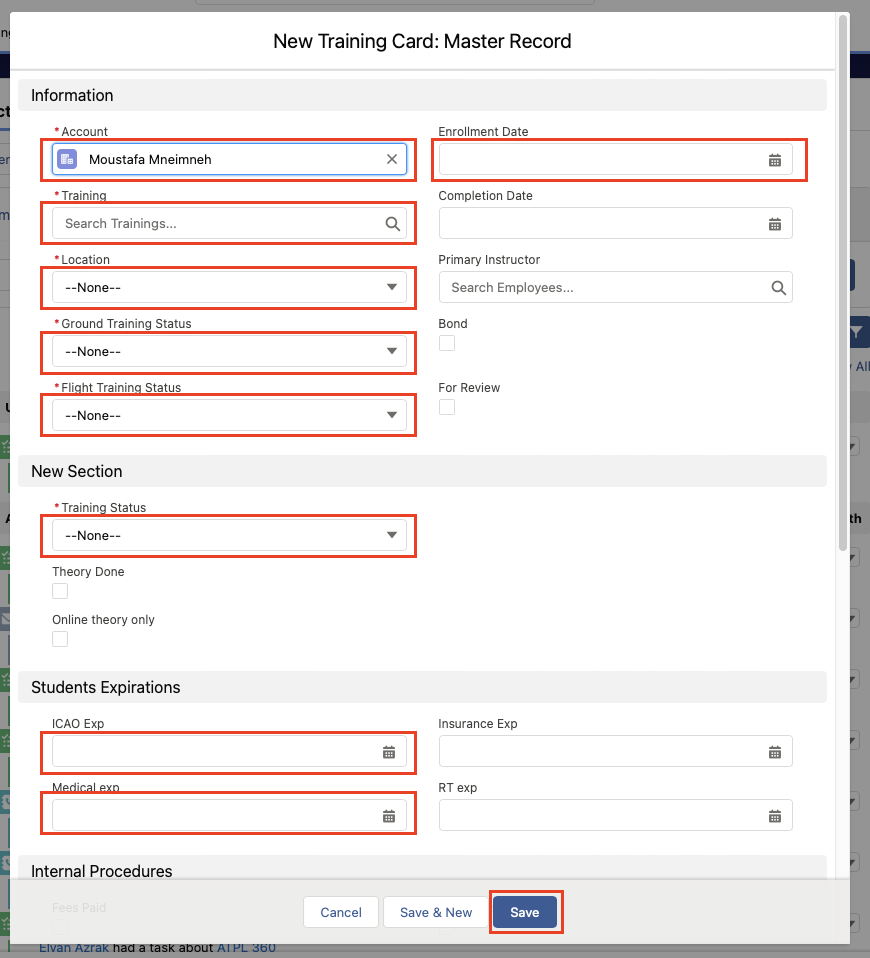 Now go back into LMS and fill all the informations from Sales Force Training Card into LMS Training Card
into LMS Training Card…..and click on SAVE and CLOSE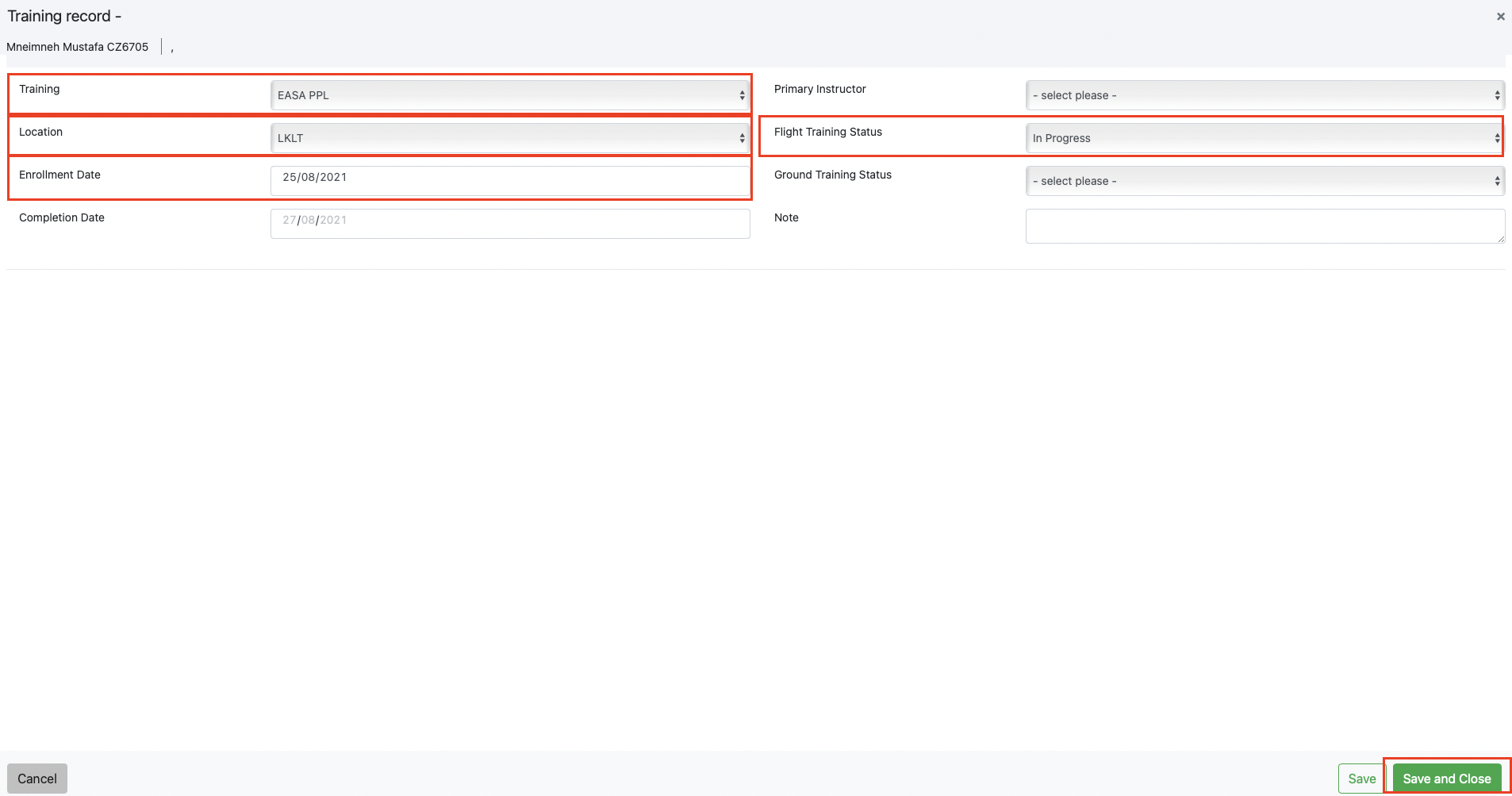 NOW IS TRAINING CARD ALREADY CREATED IN LMS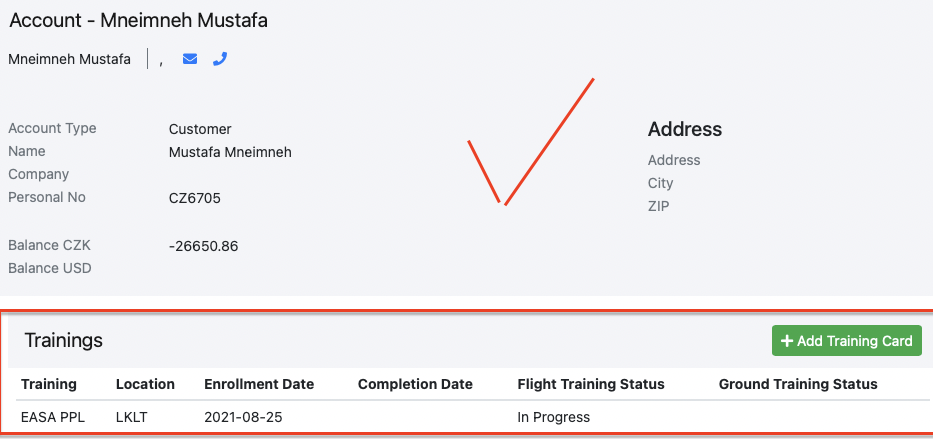 Also check if the student has ID in his SALES FORCE ACCOUNT,!!!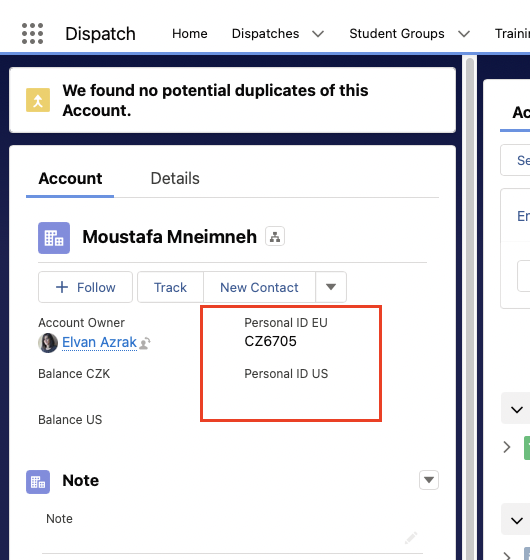 IF YOU OPENED LMS ACCESS PLS SEND US INFORMATION TO

[email protected]