( ! )

Warning: Attempt to read property "roles" on bool in /var/www/lms/wp-content/themes/flyingacademy-lms/Utils.php on line 34
Call Stack
#
Time
Memory
Function
Location
1
0.0000
363624
{main}( )
.../index.php:0
2
0.0001
364000
require( '/var/www/lms/wp-blog-header.php )
.../index.php:17
3
0.5691
34166440
require_once( '/var/www/lms/wp-includes/template-loader.php )
.../wp-blog-header.php:19
4
0.6390
36227880
include( '/var/www/lms/wp-content/themes/flyingacademy-lms/tutor/single-lesson.php )
.../template-loader.php:106
5
1.2889
55951192
tutor_lesson_content(

$echo =

??? )
.../single-lesson.php:29
6
1.2889
55967704
tutor_load_template(

$template =

'single.lesson.content'

,

$variables =

???,

$tutor_pro =

??? )
.../tutor-template-functions.php:1186
7
1.2890
55968424
include( '/var/www/lms/wp-content/themes/flyingacademy-lms/tutor/single/lesson/content.php )
.../tutor-template-functions.php:115
8
1.2890
55968800
get_user_roles(

$user_id =

0

)
.../content.php:28
LMS Dispatches Daily Check
How to get to the LMS? Go to FlyFa.com and click on E-Learning.

After Login scroll to Interactive Portals and click on Dispatches.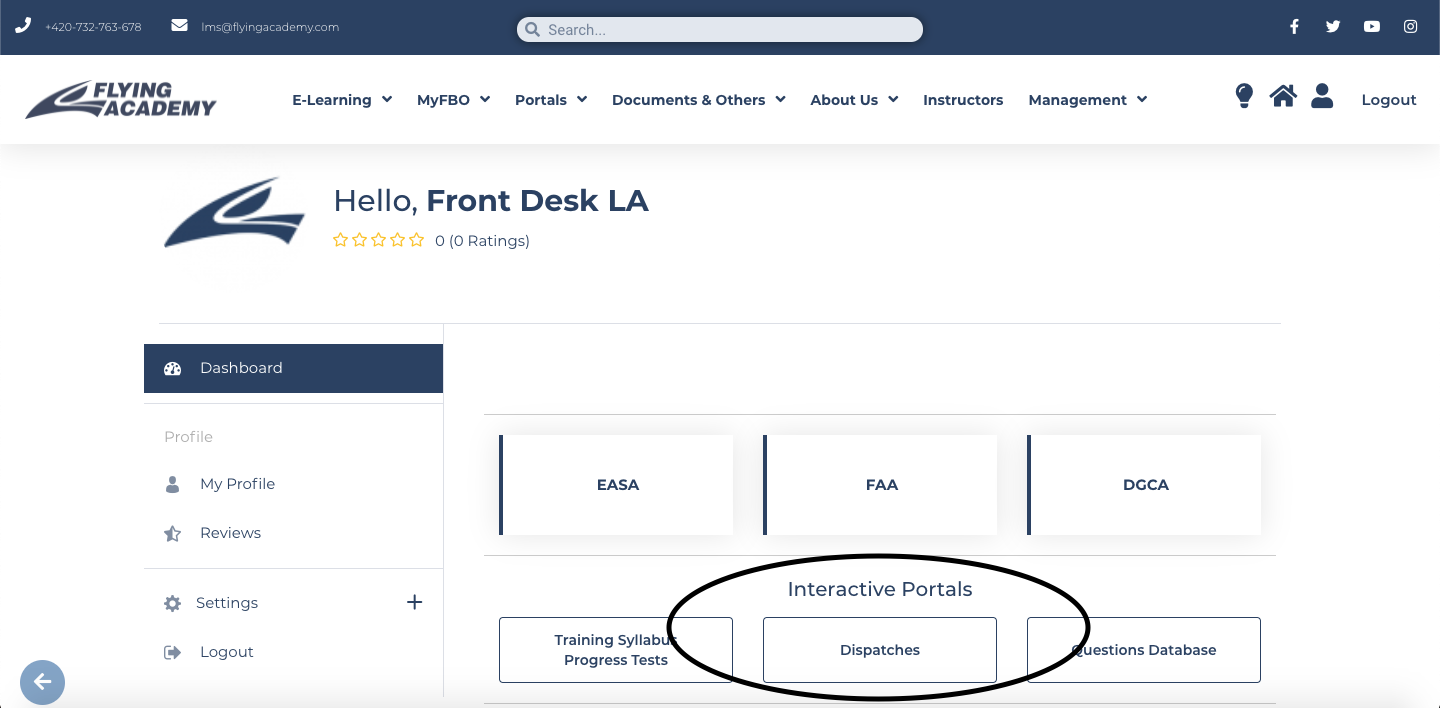 At the top of the left corner type in your base (KAJO, KTMB, LKLT, etc.) and click on Today. Make sure all dispatches have been filled out with the correct information (MyFBO #, Aircraft, Hobbs and Tach, Instructor, Student and Training). By the end of the day all dispatches must have the Status as Checked-Out or Canceled and the Training Record must be filled out by the Instructor. If you have any night flights please change the Status to Checked-In.

Every morning you must check Dispatches for yesterday. All of them must be in the Status of Checked-Out and Training Record as YES. If you find any dispatch as Checked-In, contact the Instructor and have him fill it out. If the flight got canceled, remind the Instructor to cancel the flight in the Dispatch.